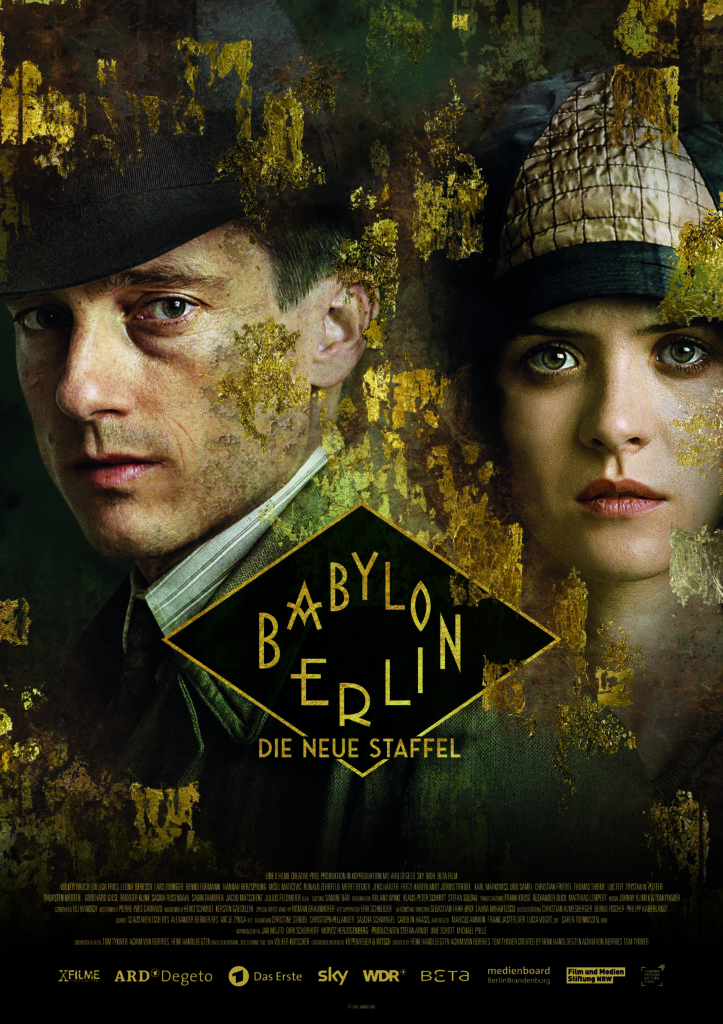 Content
The third season of "Babylon Berlin" begins shortly before the devastating stock market crash of 1929. This time Gereon Rath (Volker Bruch) investigates the case of actress Betty Winter, who died during filming at the Babelsberg film studio. Is it an accident or murder? In addition, the Benda case is not yet closed for Rath and Charlotte (Liv Lisa Fries): Greta (Leonie Benesch) is on trial for the assassination of the government councilor.
In addition to the main actors Volker Bruch as Gereon Rath and Liv Lisa Fries as Charlotte Ritter, Lars Eidinger, Fritzi Haberlandt, Jördis Triebel and Hannah Herzsprung are also back for the third season. New stars of the series are Meret Becker, Ronald Zehrfeld, Sabin Tambrea, Hanno Koffler, Martin Wuttke, Trystan Pütter, Peter Jordan, Caro Cult, Saskia Rosendahl and Bernhard Schütz.
Directors and writers of "Babylon Berlin" continue to be our creative trio Henk Handloegten, Achim von Borries and Tom Tykwer.
"Babylon Berlin" is a production of X Filme Creative Pool in co-production with ARD Degeto for Das Erste, Sky, WDR and Beta Film. Editors responsible for "Babylon Berlin" are Christine Strobl, Christoph Pellander, Sascha Schwingel and Carolin Haasis (ARD Degeto), Caren Toennissen (WDR), Marcus Ammon, Frank Jastfelder and Lucia Vogdt (Sky Deutschland). Producers for X Filme are Stefan Arndt, Uwe Schott and Michael Polle, co-producers for Beta Film are Jan Mojto, Dirk Schürhoff and Moritz Herzogenberg. The new season is supported by Medienboard Berlin-Brandenburg, Film- und Medienstiftung NRW and the German Motion Picture Fund.
Watch trailer
Awards
2020
Deutscher Kamerapreis
Nominiert - Beste Kamera - TV Film /Seriei
Christian Almesberger Philipp Haberlandt Bernd Fischer
2020
Deutscher Schauspielpreis
Gewonnen - Bester Nebendarsteller
Lars Eidinger
2020
Deutsche Akademie für Fernsehen
Nominiert - Beste Drama-Serie
Nominiert - Bester Schnitt
Alexander Berner Claus Wehlisch Antje Zynga
Nominiert - Beste Ausstattung - Szenenbild und/oder Kostüm
Uli Hanisch; Pierre-Yves Gayraud
2020
Location Managers Guild International Awards
Nominiert - Oustanding Locations in a Period Television Series
David Pieper
2021
Motion Picture Sound Editors, USA
Nominiert - Outstanding Achievement in Sound Editing - Episodic Short Form - Dialogue and ADR
Frank Kruse; Benjamin Hörbe; Alexander Buck; Dominik Schleier; Thomas Kalbér
2020
Romy Gala
Nominiert - Beliebtester männlicher Serienstar
Karl Markovics
Nominiert - Bester Fernsehproduzent
Stefan Arndt Michael Polle Uwe Schott
Produktionsfirmen
X Filme Creative Pool in Coproduction with
Beta Film
Sky
ARD Degeto
Coproducers Beta Film
Jan Mojto
Dirk Schürhoff
Moritz von Herzogenberg
Editorial
Christine Strobl, Sascha Schwingel und Carolin Haasis (ARD Degeto)
Caren Toennissen (WDR)
Marcus Ammon, Frank Jastfelder, Lucia Vogt (Sky Deutschland)
Directors
Hendrik Handloegten
Achim von Borries
Script
Hendrik Handloegten
Achim von Borries

Volker Kutscher (Romanvorlage: "Der stumme Tod")
DOP
Bernd Fischer
Philipp Haberlandt
Christian Almesberger
Editors
Alex Berner
Claus Wehlisch
Antje Zynga
Cast
Volker Bruch
Liv Lisa Fries
Mišel Matičević
Ronald Zehrfeld
Lars Eidinger
Benno Fürmann
Jens Harzer
Hannah Herzsprung
Caro Cult
Holger Handtke
Irene Böhm
Leonie Benesch
Christian Friedel
Thorsten Merten
Rüdiger Klink
Udo Samel
Luc Feit
Godehard Giese
Thomas Thieme
Fritzi Haberlandt
Karl Markovics
Peter Jordan
Ernst Stötzer
Saskia Rosendahl
Ivo Pietzcker
Trystan Pütter
Jördis Triebel
Meret Becker
Sabin Tambrea
Hanno Koffler
Martin Wuttke
Bernhard Schütz
Film funding by
Medienboard Berlin Brandenburg
NRW Film- und Medienstiftung
German Motion Picture Fund