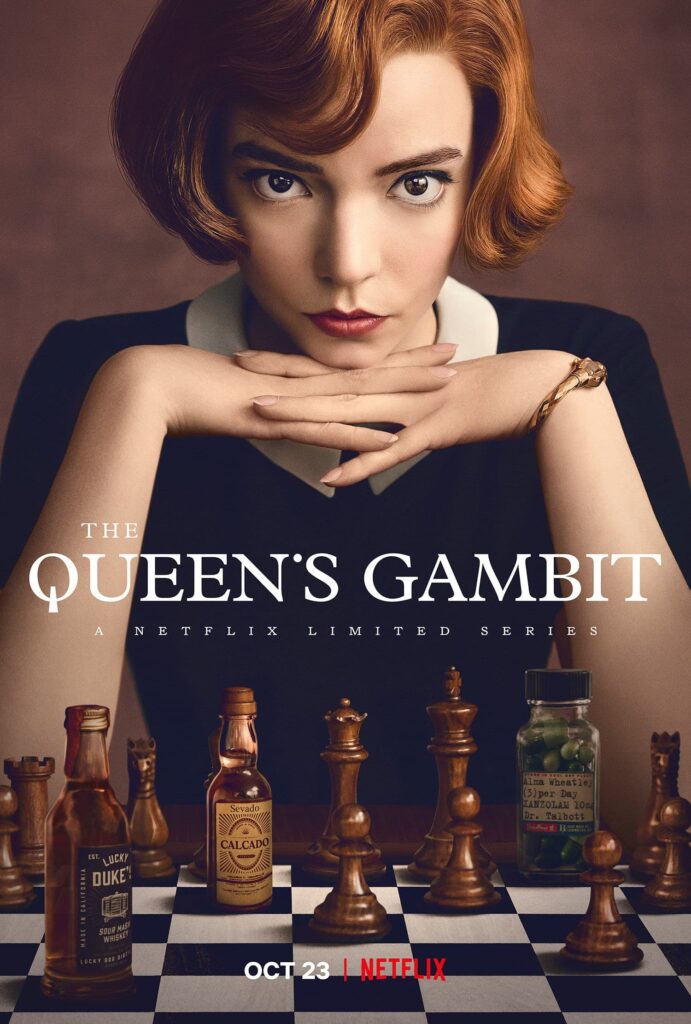 Inhalt
Im Mittelpunkt von DAS DAMENGAMBIT steht Beth Harmon, eine junge Frau, die als Kind ein erstaunliches Talent für das Schachspiel entdeckt. Mit Hilfe des Hausmeisters des Waisenhauses, in dem sie zurückgelassen wurde, blüht ihre natürliche Begabung auf, obwohl sie immer mehr von den Beruhigungsmitteln abhängig wird, die der Staat zur Ruhigstellung der Kinder bereitgestellt hat. Verfolgt von ihren persönlichen Dämonen und belastet mit der Gabe ihres Genies, navigiert Beth ihre soziale Unbeholfenheit unter Gleichaltrigen und ihr übermütiges Ego durch ein Schachbrett. Angetrieben von einem Cocktail aus Drogen und Besessenheit, entwickelt sie sich zu einer beeindruckend geschickten und glamourösen Außenseiterin, die entschlossen ist, die traditionellen Grenzen in der von Männern dominierten Welt des Wettkampfschachs zu überwinden. 
Die Besetzung wird von Anya Taylor-Joy (Emma) als Beth Harmon angeführt und umfasst Thomas Brodie-Sangster (Godless), Bill Camp (The Night Of), Moses Ingram (Macbeth), Harry Melling (The Ballad of Buster Scruggs, The Old Guard), Marielle Heller (A Walk Among the Tombstones), Jacob Fortune-Lloyd (Medici ) und Marcin Dorocinski (Roza). 
Die Serie wurde von Allan Scott (Don't Look Now) und dem Oscar- und Emmy-nominierten Regisseur Scott Frank (Godless) mitentwickelt, der auch Regie führte und die Serie nach dem gleichnamigen Roman von Walter Tevis adaptierte. Allan Scott, Scott Frank und William Horberg (Der talentierte Mr. Ripley) fungieren als ausführende Produzenten. Scott Frank arbeitet wieder mit seinem Godless-Kameramann Steven Meizler, der Cutterin Michelle Tesoro und dem Emmy-prämierten Komponisten Carlos Rafael Rivera zusammen. The Queen's Gambit ist das erste Mal, dass Frank mit dem Szenenbildner Uli Hanisch (Cloud Atlas), der Kostümbildnerin Gabriele Binder (Das Leben der Anderen) und dem Maskenbildner Daniel Parker (Tschernobyl), zusammenarbeitet. 
DAS DAMENGAMBIT wurde am 23. Oktober 2020 weltweit auf Netflix veröffentlicht.
Watch trailer
Awards
2021
Primetime Emmy Awards
Gewonnen - Primetime Emmy Outstanding Limited or Anthology Series
William Horberg; Alan Scott; Scott Frank; Mick Aniceto; Marcus Loges
Gewonnen - Outstanding Directing for a Limited or Anthology Series or Movie
Scott Frank
Gewonnen - Outstanding Casting for a Limited or Anthology Series or Movie
Tatjana Moutchnik; Olivia Scott-Webb; Anna-Lena Slater Kate Sprance; Stephanie Maile; Tina Gerussi;Ellen Lewis
Gewonnen - Outstanding Production Design for a Narrative Period or Fantasy Program (One Hour or More)
Uli Hanisch; Kai Koch; Sabine Schaaf
Gewonnen - Outstanding Period Costumes
Gabriele Binder; Gina Krauss; Katrin Hoffmann; Nanrose Buchman; Sparka Lee Hall
Gewonnen - Outstanding Period and/or Character Makeup (Non-Prosthetic)
Daniel Parker
Gewonnen - Outstanding Music Composition for a Limited or Anthology Series, Movie or Special (Original Dramatic Score)
Carlos Rafael Rivera
Nominiert - Outstanding Lead Actress in a Limited or Anthology Series or Movie
Anya Taylor-Joy
Nominiert - Outstanding Supporting Actress in a Limited or Anthology Series or Movie
Moses Ingram
Nominiert - Outstanding Writing for a Limited or Anthology Series or Movie
Scott Frank
Nominiert - Outstanding Supporting Actor in a Limited or Anthology Series or Movie
Thomas Brodie-Sangster
2021
Screen Actors Guild Awards
Gewonnen - Outstanding Performance by a Female Actor in a Television Movie or Limited Series
Any Taylor-Joy
Nominiert - Outstanding Performance by a Male Actor in a Television Movie or Limited Series
Bill Camp
2021
AFI Awards
Gewonnen - TV Program of the Year
2021
American Society of Cinematographers, USA
Gewonnen - Outstanding Achievement in Cinematography in Motion Picture, Limited Series, or Pilot Made for Television
Steven Meizler
2021
Directors Guild of America, USA
Gewonnen - Outstanding Directorial Achievement in Movies for Television and Limited Series
Scott Frank; Aldric La'auli Porter
2021
Golden Globes
Gewonnen - Best Television Limited Series, Anthology Series or Motion Picture Made for Television
Gewonnen - Best Performance by an Actress in a Limited Series, Anthology Series or a Motion Picture Made for Television
Anya Tailor-Joy
2022
Grammy Awards
Gewonnen - Best Score Soundtrack for Visual Media
Carlos Rafael Rivera
2021
Writers Guild of America, USA
Gewonnen - Adapted Long Form
Scott Frank; Allan Scott
Produktionsfirmen
Eine Netflix Original Serie
in Koproduktion mit X Filme Creative Pool
Executive Producers
Scott Frank
William Horberg
Allan Scott
Besetzung
Anya Taylor-Joy
Marielle Heller
Thomas Brodie-Sangster
Moses Ingram
Harry Melling
Bill Camp
Schachberatung
Bruce Pandolfini
Garry Kasparov