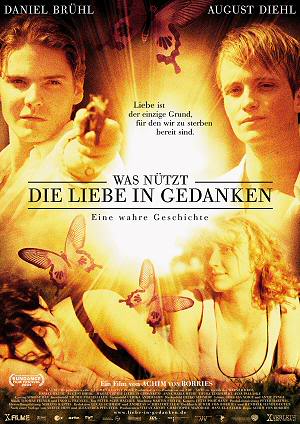 Content
Berlin 1927. The Steglitz School Murders: a violent tragedy that outraged 1920s Germany and exposed the precarious turmoil of puberty for the first time. Once a suicide club is founded, a peaceful weekend in the country is transformed by a potent mix of absinthe and sexual desire into bloody carnage.
Paul is an impoverished yet talented pupil, invited for the weekend to the summerhouse of his well-to-do and free-spirited friend Günther Scheller, whose parents are away on business. For working class Paul, it is to be a glorious weekend of luxury and pleasure in the upper class Schellers' country home. Paul is enraptured by the lavish library, the wild garden of fruit trees, the golden summer meadows, fresh lakes and of course, Günther's beautiful sister Hilde.
Mesmerised by the mysterious and provocative Hilde, Paul begins to fall in love for the first time. And Hilde, like her brother Günther, is charmed by Paul's poetic spirit, idealism, and his belief in one true love; a love worth killing for. Consumed with passion and desire, Günther and Paul forge a suicide pact; that they will kill themselves only for love, when they have lived the most intense moment of happiness.
At dusk, the party guests arrive, ready for a night like no other. The revelries begin carefree and lively, until inhibitions are stripped away, plunging the group headlong into a bohemian orgy of fortune telling, absinthe hallucinations and passionate sexual advances. In the misty hours of early morning, a melancholic desperation arises from the night's web of entangled relationships; a desperation which quickly develops into gruesome tragedy.
Eight months later, Paul stands trial for double murder, accused by his own hand, his testimony scandalously exposing the sexual appetites and morbid desires of the previously unseen Weimar youth.
Watch trailer
Editorial
ZDF: Lucas Schmidt
ARTE: Andreas Schreitmüller
Producers
Stefan Arndt
Christophe Mazodier
Manuela Stehr
Director
Achim von Borries, Hendrik Handloegten
Annette Hess, Alexander Pfeuffer (original)
based on the novel "Der Selbstmörderclub" by Arno Meyer Zu Küindorf
Hair and Make-Up
Heiko Schmidt
Johanna Hinsch
Editor
Gergana Voigt
Antje Zynga
Composition
Thomas Feiner
Ingo L. Frenzel
Komposition
Thomas Feiner
Ingo L. Frenzel
Cast
Daniel Brühl
August Diehl
Anna Maria Mühe
Thure Lindhardt
Jana Pallaske
Christoph Luser
Marius Frey
Fabian Oscar Wien
Tino Mewes