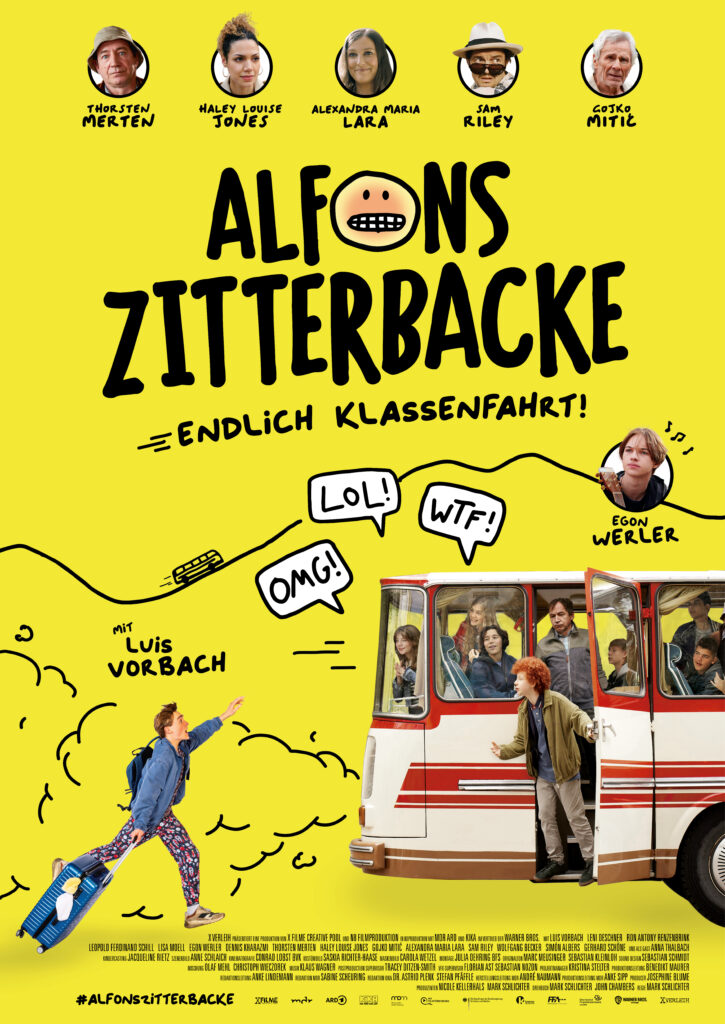 Content
In a last-minute dash across town, Alfons just barely manages to catch the bus for his class trip to the Baltic Sea. In his luggage: lots of adventures, funny pranks and … disaster – his mother's clothes?! Alfons can't believe he accidentally mixed up the suitcases, just when he was planning on showing his new classmate Leonie how cool he is.
In a desperate bid to impress her – and to the astonishment of his best friends Benni and Emilia – Alfons comes up with a bright idea: he will run for class president. Unfortunately, his arch-enemy Nico immediately realizes that Alfons is only doing it to impress Leonie and challenges him to a stupid bet. So, the fun continues and Alfons' fate as an eternal jinx takes its usual course! To make matters worse, his teacher Herr Flickendorf is just waiting for something to go wrong so he can pounce and send Alfons home.
Flying macaroni with tomato sauce, exciting nights around the campfire and a dangerous climbing tour turn the class trip into one that Alfons and his friends will never forget.
Watch trailer
Festivals
2022
Goldener Spatz - Opening film
Production Companies
X Filme Creative Pool
in Co-Production with
MDR /KiKa
N8 Filmproduktion
Editorial
Anke Lindemann, Sabine Scheuring (MDR)
Dr. Astrid Plenk, Stefan Päffle (KiKa)
Script
Mark Schlichter and John Chambers
based on ALFONS ZITTERBACKE- GESCHICHTEN EINES PECHVOGELS, ZITTERBACKE HAT WIEDER ÄRGER, ALFONS ZITTERBACKES NEUER ÄRGER by Gerhard Holtz-Baumert. Published by leiv Leipziger Kinderbuchverlag GmbH
Sound
Marc Meusinger, Sebastian Kleinloh
Hair and Make-Up
Carola Wetzel
Celine "Louie" Matthewes
Cast
Luis Vorbach
Leni Deschner
Ron Antony Renzenbrink
Leopold Ferdinand Schill
Lisa Moell
Dennis Kharazmi
Egon Werler
Jonas Heinrich
Arved Kuhnardt
Thorsten Merten
Haley Louise Jones
Alexandra Maria Lara
Sam Riley
Gojko Mitić
Simón Albers
Wolfgang Becker
Gerhard Schöne
Anna Thalbach