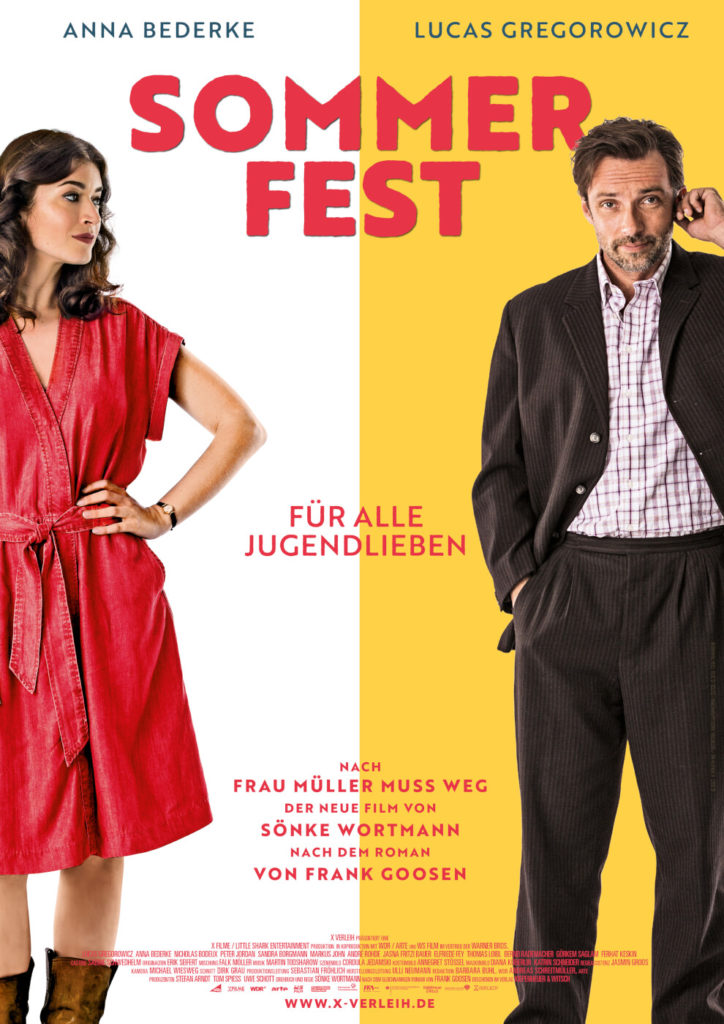 Content
With "Kleine Haie," director Sönke Wortmann sent his hero from the Ruhr region to acting school in Munich 26 years ago – now the journey returns home in "Sommerfest." Warm-hearted and with laconic humor, Wortmann tells the story of a childhood love that has outlasted time and remained young. Based on the successful novel of the same name by Frank Goosen, "Sommerfest" congenially brings the wit and melancholy of the literary original to the big screen – a film for everyone who has ever loved. And a bittersweet homage to the homeland.For director and screenwriter
Sönke Wortmann (DAS WUNDER VON BERN, DEUTSCHLAND. EIN SOMMERMÄRCHEN, FRAU MÜLLER MUSS WEG), who was born and raised in the Ruhr region, the film is a return to his own roots. In order to create as authentic a picture as possible of the region and its people, he filled the key positions in his production team throughout with employees who grew up between Duisburg and Dortmund. This includes his leading actor Lucas Gregorowicz (LAMMBOCK, SCHROTTEN!), who spent his youth in Bochum and also went to acting school there. He is joined by the wonderful Anna Bederke (SCHLUSSMACHER, FRAU ELLA) as the Leading Woman in the role of Charlie.
SOMMERFEST is a joint production by Tom Spieß for Little Shark Entertainment with Stefan Arndt and Uwe Schott for X Filme Creative Pool in co-production with WDR, Dr. Barbara Buhl (lead) and ARTE, Andreas Schreitmüller. The project was supported by Film- und Medienstiftung NRW, financed with funds from FFA Filmförderungsanstalt, Beauftragten der Bundesregierung für Kultur und Medien and Deutscher Filmförderfonds.
X Verleih released SOMMERFEST to German cinemas on June 29, 2017, distributed by Warner Bros.
Production Companies
X Filme Creative Pool Entertainment GmbH
Little Shark Entertainment GmbH
in Co-Production with:
Produced by
Stefan Arndt
Tom Spieß
Uwe Schott
Editorial
Barbara Buhl
Andreas Schreitmüller
Cast
Lucas Gregorowicz – Stefan Zöllner
Anna Bederke – Charlie
Funding
Film- und Medienstiftung NRW German Federal Film Fund (DFFF) FFA Federal Film Fund Commission for Culture and Media (BKM)