Wolfgang Becker
Shareholder / Director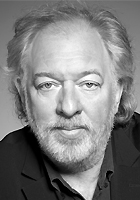 Wolfgang Becker, born in Hemer/Westphalia in 1954, studied at the FU Berlin until 1979 and at the German Film and Television Academy Berlin (dffb) from 1981. During his studies he worked as a cameraman.
With SCHMETTERLINGE – his dffb graduation film – Becker presents his debut as a director in 1987. The adaptation of the story of the same name by Ian McEwan receives, among others, the Student Academy Film Award and the Golden Leopard at the Locarno Film Festival.
The extraordinary and enthusiastically received Tatort episode BLUTWURSTWALZER (1991) is followed in 1992 by the childhood drama KINDERSPIELE (CHILDREN'S GAMES), a tragicomic story of a youth in a working-class milieu, which receives the German Film Critics' Award.
LIFE IS ALL YOU GET is Becker's first directorial effort for the company he co-founded, X Filme Creative Pool GmbH. The film, a bittersweet comedy about everyday realities and the slow disappearance of social behavior patterns, premieres at the 1997 Berlinale. It is successfully shown in cinemas – also internationally – and receives numerous awards, including the German Film Award in silver for the director and in gold for the actors Jürgen Vogel and Martina Gedeck.
With over six million viewers, Wolfgang Becker's GOOD BYE, LENIN! is the German box-office hit of 2003: having fallen into a coma before the fall of the Wall and awakening eight months later, Christiane Kerner (Katrin Saß) is kept quiet about the reunification – her critical recovery process is not to be jeopardized by unnecessary excitement. In order to maintain the illusion for as long as possible, her son Alex (Daniel Brühl) has to resurrect the GDR in a 79-square-meter prefab building: a plan that proves more difficult to implement than initially expected. The prizes for the German-German tragicomedy are too many to list: nine Lolas at the German Film Awards, six awards at the European Film Awards, the Cesar in France, a Golden Globe nomination in the USA, to name just a few. Sold in over 64 countries, GOOD BYE, LENIN! becomes a hit with audiences abroad as well. In total, the film reaches 12 million theatrical viewers, becomes a topic in school lessons and continues to shape Germany's image in the world today.
The short film BALLERO is produced for the 2006 FIFA World Cup and broadcast on television worldwide. Becker's contribution to the episodic film DEUTSCHLAND 09 produced by Tom Tykwer is KRANKES HAUS (SICK HOUSE), a grotesque about the Federal Republic as a run-down clinic.
In 2013 Wolfgang Becker realized ME AND KAMINSKI, a film adaptation of the novel of the same name by Daniel Kehlmann.